Featured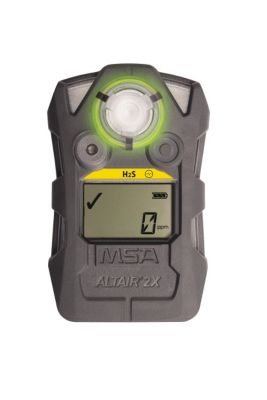 ALTAIR® 2X Gas Detector
 All ALTAIR 2X Gas Detectors * Incorporate proven XCell® sensor technology * Enhance worker safety, compliance and traceability * Minimize cost of ownership * Demonstrate rugged durability  Product Options * ALTAIR 2XP Gas Detector with XCell Pulse Technology: H2S  - * Features the first stand-alone bump test, which eliminates the need for bottled gas! * Bump test anytime, anywhere * Based on proven science and patented sensor capabilities * ALTAIR 2XP Gas Detector with XCell Pulse Technology: H2S * ALTAIR 2X Gas Detectors: CO, CO-HC (High Concentration), CO-H2 (Hydrogen Resistant), H2S-LC, SO2, NO2, NH3 and Cl2 * ALTAIR 2XT Two-Tox Gas Detector: CO/H2S, CO-H2/H2S, CO/H2S-LC, CO/NO2 and SO2/H2S-LC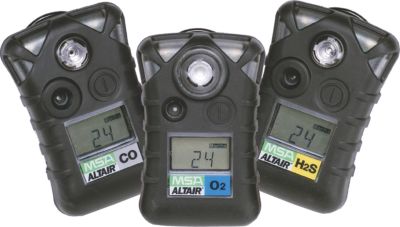 ALTAIR® Single-Gas Detector
Designed for superior lifespan—patented sensors operate for over two years—and high performance, the ALTAIR Single-Gas Detector is the smart choice for market-leading, cost-effective gas monitors. Features sensor options for carbon monoxide, hydrogen sulfide, and oxygen coupled with LED/audible/vibrating alarms. Superior dust/water protection, high RFI resistance, and one-button operation provide heightened safety, plus increased durability and ease-of-use.
ALTAIR® Pro Single-Gas Detector
Based on the industry-standard ALTAIR Single-Gas Detector—but with added features and functionality—ALTAIR Pro toxic gas and oxygen detectors combine reliable detection and LED/audible/flashing/vibrating alarms with clear, backlit LCD displays. Electrochemical sensors measure concentrations of toxic gas (chlorine dioxide, hydrogen cyanide and phosphine) or percent oxygen. Purpose-built for superior dust and water protection, excellent impact resistance and excellent RFI performance.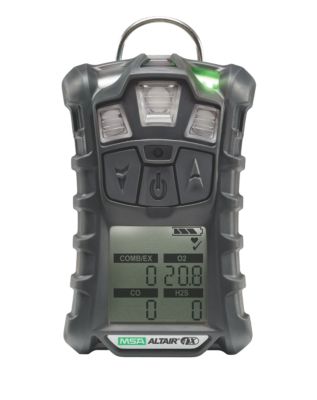 ALTAIR® 4X Multigas Detector
The ALTAIR 4X is an extremely durable Multigas Detector that simultaneously measures up to four gases from a wide range of XCell(R) sensor options including combustible gases, O₂, CO, H₂S, SO₂ and NO₂. The ALTAIR 4X Detector surpasses industry standards in several crucial areas. Its four-year sensor life is 60% longer than the industry average, while its 24-hour run time exceeds the industry average by 71%. This versatile portable detector is a perfect match for industries ranging from fire fighting to welding, and its digital sensor output makes it less likely to suffer from RF interference. The unit features exclusive MotionAlert™, which lets others know if the user has become immobile, and InstantAlert™, a manual alarm that alerts others of potentially dangerous situations. This rugged unit is designed to withstand a drop of up to 20 ft (6m) and uses less than half as much calibration gas as the industry average.