MSA Fixed Gas & Flame Detection Solutions
MSA chose General Monitors over 10-years ago, providing a combined experience of over 160 years, to help us revolutionize fixed gas and flame detection. We're better together as a team, providing reliable safety solutions that work in plants large or small to protect hundreds of thousands of workers around the globe.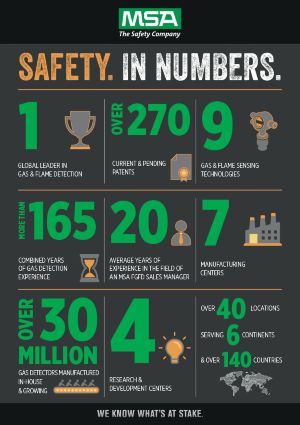 Safety in Numbers with MSA
Our numbers speak for themselves and give you the confidence that we are experts in the field of Fixed Gas & Flame Detection (FGFD), with 165+ years of experience. And this is without counting the years of experience in the field developed by our experts.
As the FGFD leaders, we are continually pushing the boundaries in technology to develop advanced detectors which increase the level of safety for your people and facilities. Like all our customers around the world, you are in safe hands when using MSA products.
Download Infographic
Why MSA?
Safety without compromise—that's our promise. We're constantly innovating and continuously improving our detectors to keep you safe while making your job easier. You'll find our detectors and systems at work in hazardous industries and environments, from the arctic, to the desert to the tropics or at sea.
MSA Fixed Gas & Flame Detection Portfolio
Your Questions Answered
MSA offers a wide range of fixed gas and flame detection solutions, see below for answers to frequently asked questions.
MSA Fixed Gas & Flame Detection Solutions
Talk to an Expert