CONNECT FROM ANYWHERE. EVERYWHERE.
SAFER. Smarter. Connected.
The M1 Incident Command Solution provides complete monitoring and transmission of data in real time. All relevant information is transmitted live by a firefighter wearing the M1 SCBA with M1 Control Module to the MSA HUB, and from there to the FireGrid Monitor tablet app or the Entry Control Board, supplying the Incident Commander with the data at the scene.
M1 Control Module
The M1 Control Module is an easy to use personal alert safety system (PASS) with motionless sensor and long-range radio telemetry option. Its full-colour, integrated digital display increases awareness of individual firefighters on their environment by giving clear pressure and alarm indications.
At the same time, Incident Command has better and more reliable information about how the scene is evolving dynamically, remaining service time and alarms.
Ease of Use
Using an intuitive traffic light system, the SCBA's air pressure or remaining service time is displayed automatically just by lifting the M1 Control Module or when passing a user-defined pressure threshold. The FireGrid Monitor tablet app displays the same colours so incident control is aware of what happens at the scene. In addition to the digital display, the unit's luminescent mechanical gauge shows the pressure status even without battery operation.

Increased Safety
The integrated alarm procedures start either automatically or manually using the red distress button. Once the alarm is activated, ultra-bright buddy lights guarantee maximum safety in dark or even smoke-filled environments. The integrated motion sensor activates a full body alarm and offers an exclusive free fall detection with a threshold of 1.5 metres. Alarms are being transmitted to FireGrid Monitor for additional safety and awareness.
MSA HUB
The MSA HUB provides a wireless gateway to the cloud, enabling wireless on-scene data for local and remote Incident Command for additional eyes on the scene and a more seamless post-incident evaluation. It is designed to be used independently of LUNAR, with telemetry-enabled SCBA.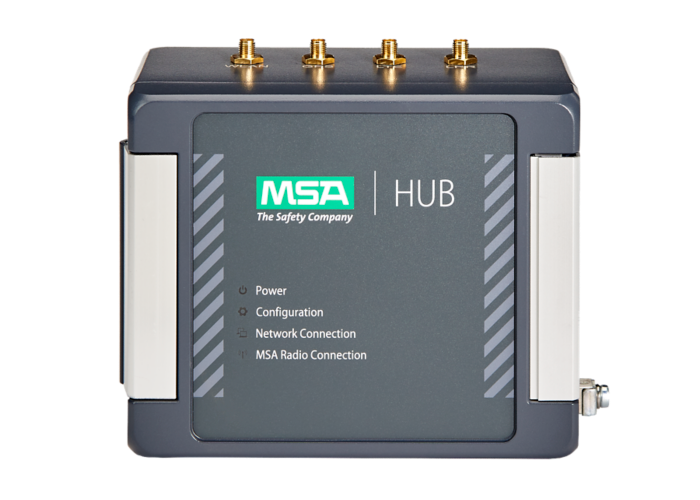 Connectivity
The MSA HUB creates its own hotspot for local use with no internet connection needed or connects to the cloud via an existing internet connection. It connects to the FireGrid Monitor tablet app for local monitoring and sends all data to the FireGrid Web platform for remote monitoring, post scene evaluation, reporting and inventory management.

Mobility
Wirelessly connects to an iOS or Android tablet for local monitoring on FireGrid Monitor tablet app.